Sadie Sink talks scent memories, holy grail skincare products and RuPaul's Drag Race
The Stranger Things actress, ES Mag cover star and Armani brand ambassador shares her 9 beauty secrets for luminous skin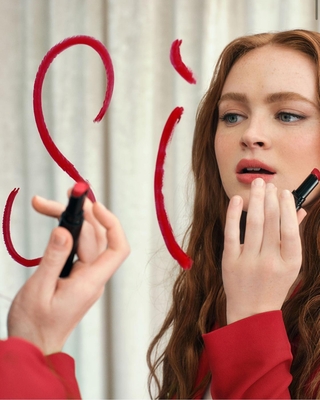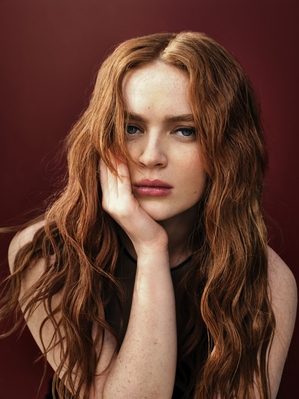 Sadie Sink is freckle-faced and glowing in her luxury New York hotel-suite when I speak to her over Zoom, having recently returned from Croatia where – for the past few months – she's been shooting the rock opera musical O'Dessa. Hot off the heels from appearing in Oscar-nominated The Whale with Brendan Fraser, 2023 has been a busy but "beautiful" year for the young star.
"A lot is up in the air in the industry right now, and lots needs to be resolved before filming can continue to happen," she says. With the finale season of Stranger Things on hiatus, the young star is taking on more and more challenges— beginning with the world of beauty.
This autumn the actress joins forces with Armani Beauty as their newest global ambassador, embodying the brand's makeup collection and starring in the latest Si Eau De Parfum Intense fragrance campaign alongside Cate Blanchett .
"I am very excited to be working with the brand at this point in my life as I step into adulthood," she tells me, despite only turning 21 in April. With a spirited exuberance that is wrapped up in a toothy smile, it is clear to see she is a natural fit for the iconic brand. "I feel very adult, very mature and sophisticated whenever I'm wearing Armani clothes or beauty, there's definitely always a level of elegance there."
Playful at heart, Sink is keen to experiment with fragrance and beauty when taking on different roles. "It's so nice to have a separation between yourself and the character and leave behind your own personal fragrance and take on a new scent,"she says. "I think scent has the power to play a huge part in getting into character and it's something that I've only recently thought about implementing in the future."
Here she teaches ES Magazine a few of her essential beauty lessons.
1) Fragrance is nostalgic
"I guess my first and forever scent memory is probably my mom. Whatever she wears or however she just naturally smells evokes so much comfort and memory. My favourite scent is very specific, but when my little sister was born, just because it was such an exciting moment to become a big sister. That one I'll always remember."
2) Less is generally more
"When it comes to makeup, I would say for my everyday life the one thing that I tend to use every single day is a brow gel of some kind or a brow pencil. I've never really played a character that's had a very specific beauty look. It's always just kind of been very natural."
3) SPF is for every day (not just the sunny ones)
"I couldn't live without sunscreen. Skin care and makeup products kind of come and go, but sunscreen is forever."
4) Be yourself
"I would probably say I feel most myself either when I'm on set in a working environment, I think that's kind of like when you're in the zone and you feel most fulfilled and most like yourself for me. Or probably more realistically I would say when I'm just alone in my room watching YouTube videos or RuPaul's Drag Race, that's where I'm in my element even more so."
5) Look to your favourite characters for style inspo
"With fashion, I find myself kind of taking on the style of a character during a shoot or afterwards. I really felt it with Max during season 3 for some reason and her style there, I definitely felt like I was kind of taking it on just playing with colours more and even kind of taking some inspiration from the 80s. That definitely kind of led into my real life, but also because that shoot was maybe two years long. So to a certain point, if you're wearing a character's clothes for so long, it's going to rub off on you in one way or another."
6) Balance work with play
"Coming off of a big project. It's hard to get back into a normal routine and normal sleeping hours. But it does feel nice when I do. I'm really bad at not working, but for the rest of the summer I'll probably stay in New York. Go visit a friend in California, those are my plans."
7) Invest in your skin
"I would say my favourite skincare product is May Lindstrom's The Blue Cocoon. I love this. I've used this product for maybe four-five years or something. It's pricey. Definitely. I really don't like to splurge on skin care, but this is the one that I just have and each bottle lasts a year so it's worth it. But this is like my kind of holy grail skin care product that I swear by."
8) Don't underestimate the power of a manicure
"One thing that I don't do that I really should is forgetting to get my nails done. I have something this weekend and I need to get my nails done for it. I should start making that my routine and new ritual."
9) Major life experiences are the ultimate beauty flex
"I remember my first big red carpet was for season 2 premiere of Stranger Things, which was my first season. That was pretty memorable, just because of how scary and exciting it was because the season was coming out and it just felt like such a big kind of turning point in my life."